perfect home for your hardware
Indonet Data Center Colocation
Global Operation Standard
In this age, information security is a matter of national security, efficiency is a matter of saving the world, capacity is a matter of fulfilling promises, availability and resilience are matters of retaining business. And for all needs, we also understand that compliances & certified network and server availability is of the utmost importance.
Keep Your Server In the Most Secure Datacentre!
Armed Security Guard Officer
Log Book
Only Registered PIC allowed in
Double Biometric Entrance Security System Scheme
Global anti-pass back (in/out) card readers
Data center space guaranteed security
Dual Source from PLN & Powerful Generator (400 KW)
Dual UPS Operational (Plus 1 Stand by) Source with stable power output
Supported by Batteries System up to 30 Minutes, PLN to Generator switch over
Fully IP Based & Managed Power Distribution Unit (Up to 16 A)
Power and data cable tray separation for avoiding electromagnetic induction affect
Environment and Security Monitoring
Dual Cooling System of Precision Air Conditioner Well maintained temperature at 17° to 24° C Humidity at 40-60%
FM200 System and Smoke Sensor (fire extinguisher)
CCTV for Continuous monitoring
Integrated Monitoring by Advance SCADA System
Indonet combines leading class facilities with our own highly resilient network to offer a reliable environment for your IT infrastructure.
Get an extra level of safety, while enjoying a high-performance connection with the available managed hosting and colocation hosting options.
With server colocation services, you can centralize and provide global access to your database and company applications. Eliminate the risk of outages and slow connectivity for remote users.
Two floors
Powerful Structure (40cm thick Raised Floor and Loadable to 1000 kg/sqm)
Seismically Braced Server Rack
Total Handling Capacity 140 Racks
The server rooms are further surrounded by three concrete walls.
Reliable & High Capacity Fiber Optic Backbone with Diverse Entrance Paths
Connected to Multiple Upstream / Carriers
Connected to Local Internet Cloud both Open IXP & IIX, also Private Peers
Proven Network Hardware Redundancy System
IPS/IDS (Optional)
All Gigabit Ethernet connection to customer
We are ready for your unlimited growth
Stay online and profitable
We are ready for your unlimited growth
In our data centers, we ensure the safety and accessibility of your data 24/7 based on the highest standards of the industry with the latest technology.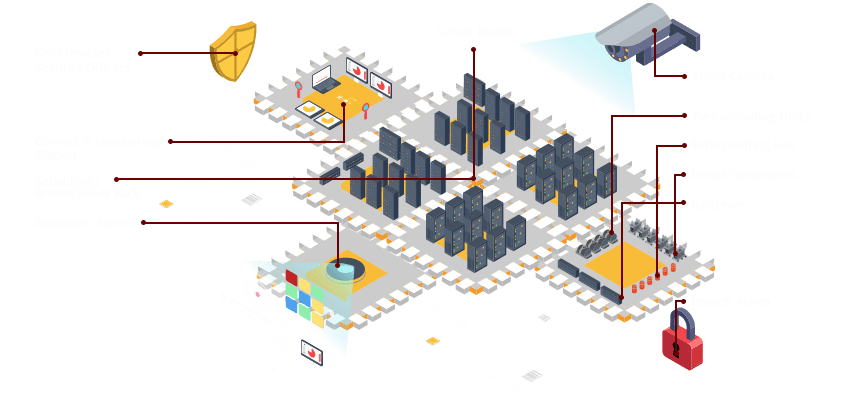 High-End Multi-Layered Security
Servers are stored in a secured environment with both physical and virtual security. We provide the best firewall and encryption services to protect against virtual threats and data theft. Our data centers are protected and connected at all times.
Setting up colocation for your disaster recovery solution keeps you online and in business 24/7/365. You can back up your critical data to another location or mirror environments with a hot cutover. Indonet also provides support for tape or drive swaps for archival storage.
24/7 On-Site Qualified Engineers
As part of our colocation service, certified and highly qualified engineers are available 24/7 to perform diverse tasks at your request, including equipment server reboots, circuit testing, cable and card replacements, and regular exchange of backup tapes or other removable media.
Clear your work area and preserve your budget. Take advantage of our multi-million infrastructure and eliminate the expenses associated with maintaining your own network. Secure and customizable Colo cabinets and cages are available.
Keep Your Business In the Most Secure Datacentre!
Questions?
We'll put you on the right path.
We have a perceptive sales team available to assist you with a variety of topics, and to get you up-and-running with Indonet Data Center Colocation. Get in touch with our team by telephone to learn more about our colocation services.
Phone Numbers: 021-2755 5222
How can we help you today?
Fill in the form and we will get back to you.