The use of a Renewable Energy Certificate is one of the emission reduction strategies by EDGE DC in an effort to support the goal of carbon neutrality in 2030
Jakarta, 12 May 2022 – PT Ekagrata Data Gemilang ("EDGE DC") has announced it has become the first data center in Jakarta to utilize sustainable energy initiative from PLN, a state-owned electricity company. As a leading carrier neutral, low latency data center operator in downtown Jakarta, EDGE DC has taken advantage of the Renewable Energy Certificate ("REC") from PLN. REC is an innovation by PLN in the energy sector designed to help increase the clean energy mix in Indonesia by up to 25% by 2025. This initiative is part of EDGE DC's commitment to support sustainable development, especially in the green energy sector.
According to the International Energy Agency ("IEA") estimated in 2020, global electricity usage for data center was around 250 Terawatt-hour ("TWh") or up to 1% of total consumption worldwide. In view of rapid development of the digital economy in Indonesia and growing demand for IT infrastructure services, EDGE DC, as a purpose-built data center located in downtown Jakarta, supports the use of low carbon technology, as demonstrated by today's REC handover ceremony with PLN.
"Obtaining the Renewable Energy Certificate from PLN is a testament of EDGE DC's commitment to support the use of sustainable energy, including from geothermal sources. With its transparent procurement process, we believe that PLN's innovation in REC is in line with our aim to support our customer's sustainability goal" said Stephanus Oscar, CEO of EDGE DC, the first data center located in Jakarta to receive the REC from PLN.
Naz Ghouse, Director of ESG (Environmental, Sustainability and Governance) at Digital Edge added, "As outlined in our recently published ESG report, we are committed to reduce greenhouse gas emissions across all of our facilities and achieve carbon neutrality by 2030. Purchasing electricity, especially from renewable sources such as PLN is one of the emission reduction strategies we have chosen for our data center facility in Indonesia, EDGE DC, as we continue to work towards this goal."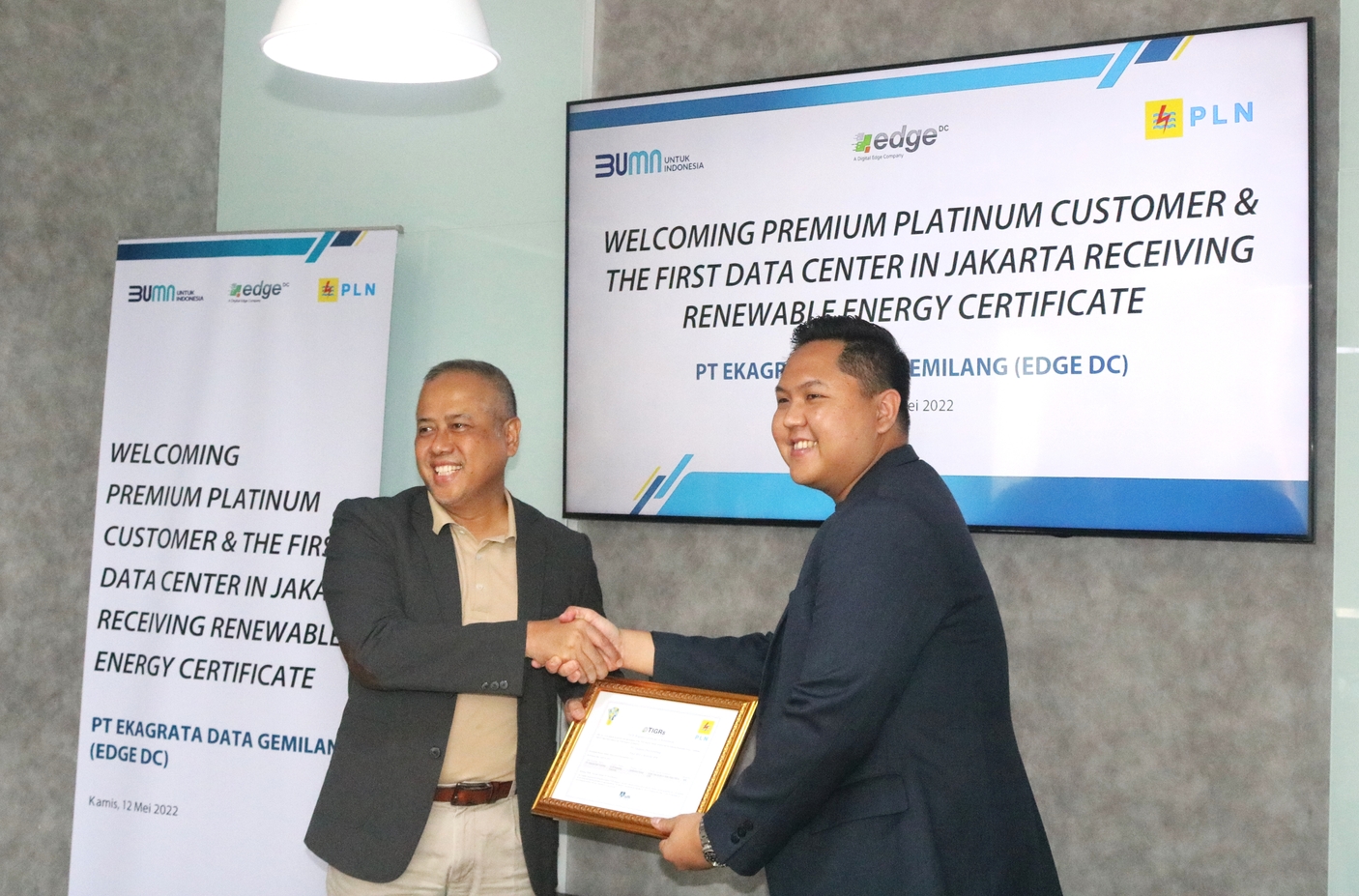 "We greatly appreciate EDGE DC's commitment in utilizing REC clean energy products. This is one of PLN's green product innovations to provide recognition to our customers for the use of renewable energy sources that are transparent, accountable, and internationally recognized without incurring investment costs for infrastructure. During 2022, PLN Main Distribution Unit (UID) Jakarta Raya supplied 9,231 REC units or the equivalent of 9,231 MWh of renewable energy to customers in Jakarta. EDGE DC's contribution through this REC is a commitment that should be highlighted in support of a greener Jakarta. It is also a concrete action to support the government's program towards Indonesia Net Zero Emission by 2060", stated Doddy B Pangaribuan, General Manager of PLN Main Distribution Unit (UID) Greater Jakarta.
The potential electricity demand for data centers in Indonesia is estimated to reach 300 MVA in 2022, and will continue to grow. PLN also provides premium electricity with reliable multi-source supply to support power reliability for data centers. The use of the Automatic Change Over ("ACO") system complements the reliability of premium electricity supply, so that if the main power source is interrupted, it will immediately be transferred to a backup power source. Reliability is a crucial factor in data center operations and the use of this technology will enable EDGE DC to ensure uninterrupted service to its customers.
"Electrical conditions in Jakarta are safe. DKI Jakarta itself is supported by 6 subsystems with a total capacity of 11,093 Megawatts (MW) and the highest peak load in 2022, which is 5,351 MW. We encourage enterprises to grow their businesses in Jakarta, supported by PLN's reliable electricity services," added Doddy.
***
About PT. Ekagrata Data Gemilang ("EDGE DC") Established in 2018, PT Ekagrata Data Gemilang is a subsidiary of the first commercial internet service provider ("ISP") – Indonet (IDX:EDGE) and affiliated with the first tier IV data center in Indonesia – DCI Indonesia (IDX:DCII). EDGE provides end users with data center facilities to support next generation applications in low latency. EDGE is a few of several data centers that are deliberately built in the center of Jakarta, so that they are close to the internet exchange center in providing connectivity. Since June 2021, Digital Edge (Hong Kong) Ltd has officially become the majority shareholder of Indonet.
About Digital Edge Headquartered in Singapore, Digital Edge is a trusted and forward-looking data center platform company, established to transform digital infrastructure in Asia. Through building and operating state-of-the-art, energy efficient data centers rich with connectivity options, Digital Edge aims to bring new colocation and interconnect options to the Asian market, making infrastructure deployment in the region easy, efficient and economical.
Digital Edge was founded by a seasoned senior management team with decades of industry experience and an established track record of value creation in the data center, cloud and telecommunications industries in the Asia Pacific region. Backed by leading alternative investment firm Stonepeak, Digital Edge has in excess of US$1 billion in deployed and committed capital, establishing itself as a market leading pan-Asia data center platform. The company provides data center and fiber services across Asia, with a presence in Indonesia, Japan, South Korea, and the Philippines.
About PLN PLN Main Distribution Unit for Greater Jakarta is one of the units under PT PLN (Persero) which carries out the function of distributing electricity to customers. PLN carries the Transformation agenda with the aspirations of Green, Lean, Innovative, and Customer Focused to bring electricity for a better life. Implementing these aspirations while continuing to support the DKI Jakarta Provincial Government program, PLN UID Jakarta Raya is equipped with Jakarta Smart Electricity for City of Collaboration with 5 pillars, namely Smart Services, Smart Business, Smart Infrastructure, Smart Living, and Smart Mobility. PLN can be contacted through the PLN Mobile application available on the PlayStore or AppStore
Regarding the need for environmentally friendly electricity, customers can purchase PLN REC, both for individuals and corporations, through the website https://jasa.pln.co.id/renewable-energy-certificate.